Computatio: Journal of Computer Science and Information Systems is a peer reviewed journal in the field of computer science and information systems. The journal is published twice a year by Faculty of Information and Technology, Tarumanagara University, Indonesia. Accepted papers will be available on line (free access) without any publication fee.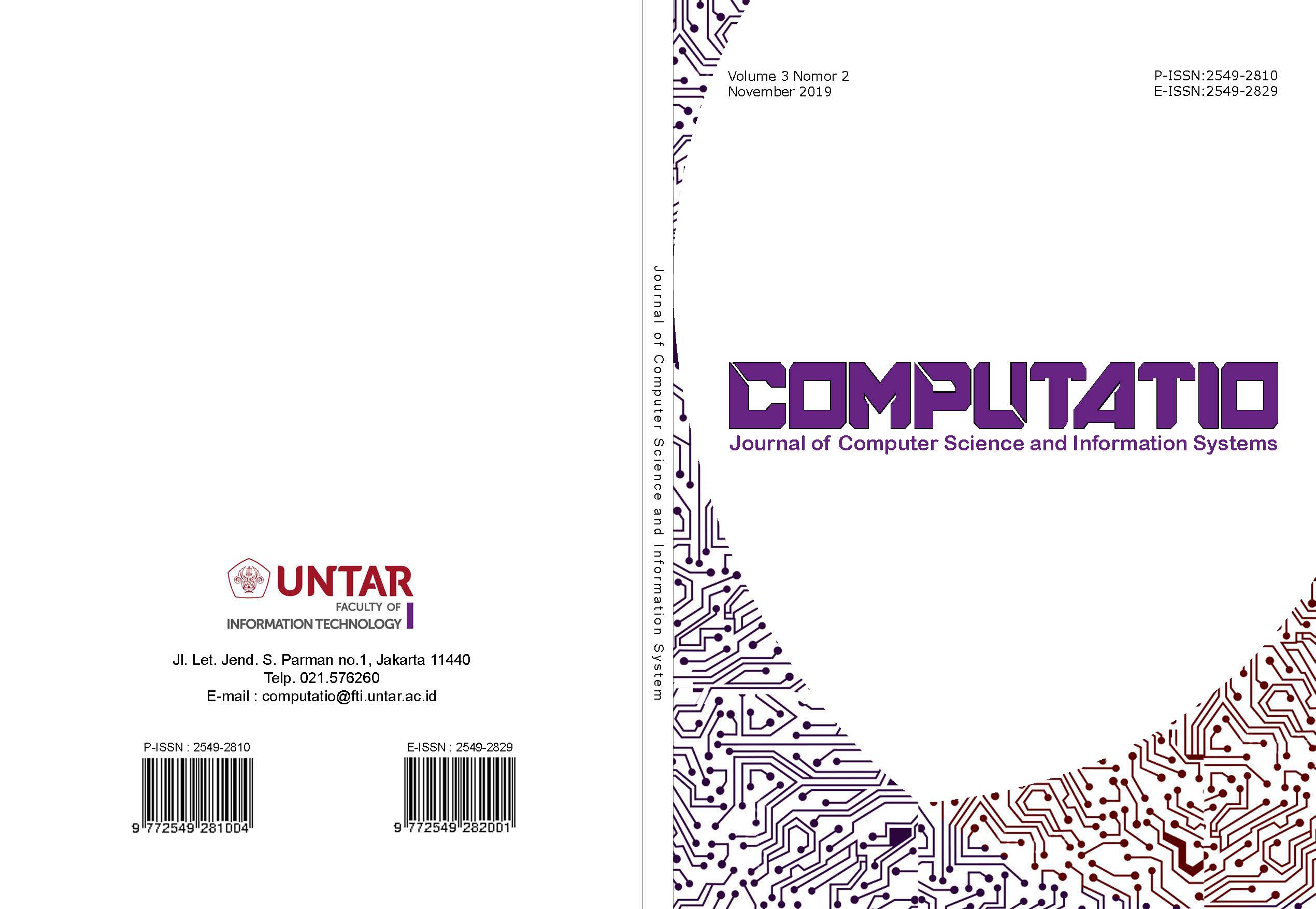 P-ISSN : 2549-2810   |   E-ISSN : 2549-2829
Announcements
Manuscript Submission

All manuscript submission to the journal will be conducted through this journal system. Authors can request login account by email to computatio@fti.untar.ac.id.
Posted: 2017-11-01
More...
Vol 3, No 1 (2019): COMPUTATIO : JOURNAL OF COMPUTER SCIENCE AND INFORMATION SYSTEMS
Table of Contents
Articles
| | | |
| --- | --- | --- |
| | Dhimas Dirgantara, Is Mardianto | 1-10 |
| | | |
| --- | --- | --- |
| | Cynthia Cynthia, Janson Hendryli, Dyah Erny Herwindiati | 11-20 |
| | | |
| --- | --- | --- |
| | Dwiki Jatikusumo, Rahmat Rian Hidayat | 21-30 |
| | | |
| --- | --- | --- |
| | Nickolas Cornelius Siantar, Jaqnson Hendryli, Dyah Erny Herwindiati | 31-38 |
| | | |
| --- | --- | --- |
| | Rusma Eko Fiddy Rizarta, Donny Avianto | 39-55 |
| | | |
| --- | --- | --- |
| | Sobiyanto Sobiyanto | 56-66 |
| | | |
| --- | --- | --- |
| | Sandfreni Sandfreni, Fransiskus Adikara | 67-76 |
| | | |
| --- | --- | --- |
| | Benny Bunardi, Dali Santun Naga, Desi Arisandi | 77-84 |